The Gathering, 2018
One of our High Cove community members, Robert Maier, has put together this brief video to document the 2018 "Gathering." Robert is an accomplished professional filmmaker, teacher and author with an impressive resume in the field. The annual Gathering is an event hosted by the VHCA (Village at High Cove Association) typically in July and timed to correspond to the official annual meeting of the association membership. It's a time for the community to focus on being together as a community, to work collaboratively on projects, to learn and talk and eat together.
2018 was the fifth annual Gathering. It included a lecture by Lisa Thomson and a colleague from the American Chestnut Foundation, and their efforts to restore this extraordinary species to the forests of the region. There were three work projects: maintenance and improvement of High Cove's trails, construction of a community fire pit near the Studio Court and community garden, and construction of a memorial cairn near the newly constructed Studio at High Cove (the first installment in creating what will be the Studio Court). At the end of the afternoon, there was a dedication ceremony for the cairn.
If you happen to be in the area in July, join us at the Gathering. It's a great way to get to know the community.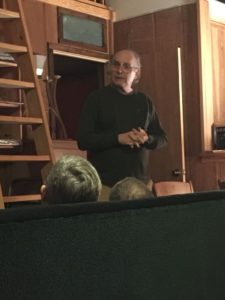 There's more about Robert Maier on the community members' blog pages HERE.