High Cove's First Tiny House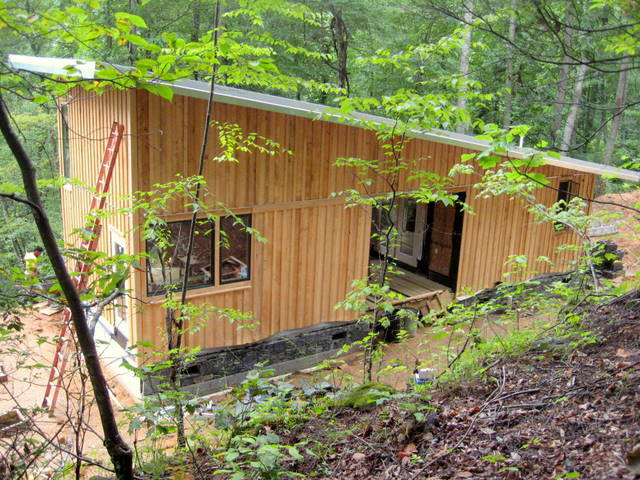 We didn't set out to live in a tiny house. We set out to build a studio for my woodworker husband. Attached would be a tiny house where we would live until we built a bigger house. We had lived in small spaces before—but not 255 square feet! The house is 16' x 18'. Subtracting for our (well-insulated walls), that's 255 square feet of interior space. How does that work?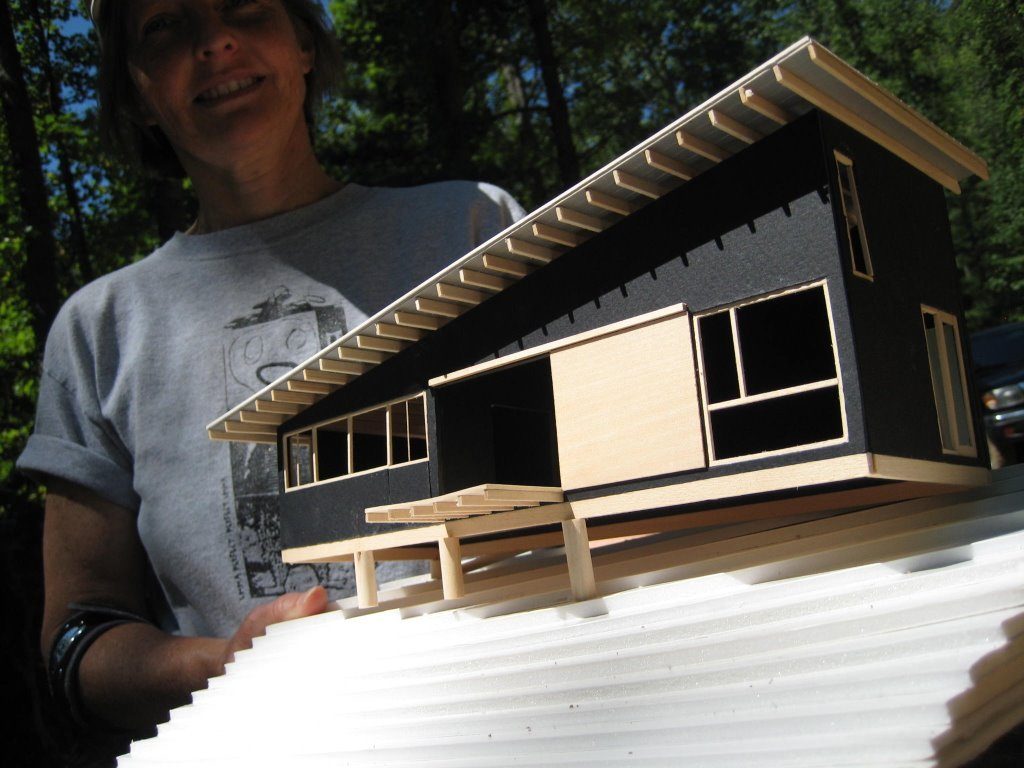 Let's start with the kitchen. Even for a brief period of tiny-ness, we knew we'd want a full kitchen with a full-size fridge, stove and oven, some counter space, cabinets. Another thing that makes the tiny work is our windows—big windows that nearly span the south wall (plus some on the other walls, too). Being inside our house feels like being in the forest—except that you're warm and dry. High ceilings help the house feel spacious.
For me, what really makes the house work is not what's inside, but what's outside. Living at High Cove we're surrounded by forest and mountains. It's wonderful to be outside. Our house has a covered "dogtrot" between the house and studio where we eat meals, visit with friends, watch the fireflies or the falling snow. (In fact, that's where I'm writing this story.) We also have a deck, a fire ring, and other outdoor spaces. Being in a house that lives so intimately with the land is profoundly satisfying.
Tiny house living is a lot easier in a place like High Cove where we have access to community resources. The forest preserve comes first to mind, but there are other ways High Cove supports tiny house living. Overnight guests can stay at Firefly Lodge—which works well for us and our guests! My bike is kept in the barn where others can use it, too (and I can borrow a bike for a visiting friend). We have all kinds of tools available. I can wash laundry at the Lodge.
Inevitably, a tiny house reflects and affects your relationship with material things. If you're a collector a tiny house might not suit you. But you don't have to be a minimalist, either. I love beautiful things, and things that have meaning—an etched copper bowl made by my mother, a mask John carved, a pilsner glass I made. I am continually surprised though, by how few things we actually use. I've found that periodic rotation of our objects, both functional and decorative, allows us to appreciate them more. We have a good-sized attic, easily accessed by pull-down stairs, where we store artwork as well as seasonal clothes, bulk foods, extra wine glasses, etc. Organization and editing are necessary practices for small house living. IKEA is your friend.
Living small is comfortable for us because John and I each have separate work spaces. John's work creates a lot of wood dust. And it's his nature to collect more and organize less than I do. That's fine, his studio is his space. I can work in an office at the Lodge, and that's where files, maps, printers, and such are kept.
Living in a tiny house has changed my life, subtly and over a period of time, but none the less. A deep connection with nature is one way. I love waking in the night and seeing stars, or lightning, or streaks of red dawn. I have breakfast with the birds, welcome the new skunk family, notice bear scat on the trail nearby. Don't get me wrong, I still like to crank up some rough-edged blues, but I'm not so easily drawn off-center by the things man has wrought. Tiny house living has also affected my relationship with time. It began as a desire to own less stuff and thus to reclaim time taken by acquiring and managing stuff. That has grown into a deep awareness of everything I take into my life, including work, relationships, anxieties. I know how much "space" I have, and how I want to use it.
Living in a tiny house is not for everyone. One friend loves our house but commented that both she and her partner are tall people. That made sense: I believe we each have a visceral sense of scale. John and I aren't tall. And we don't have kids or a big dog. (Although our cat has a way of taking over the bed, no matter how big it is!)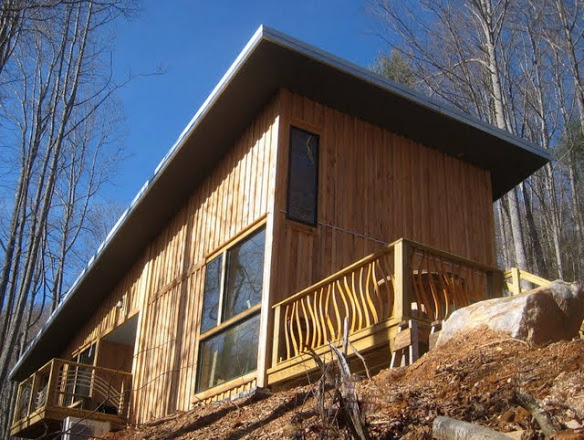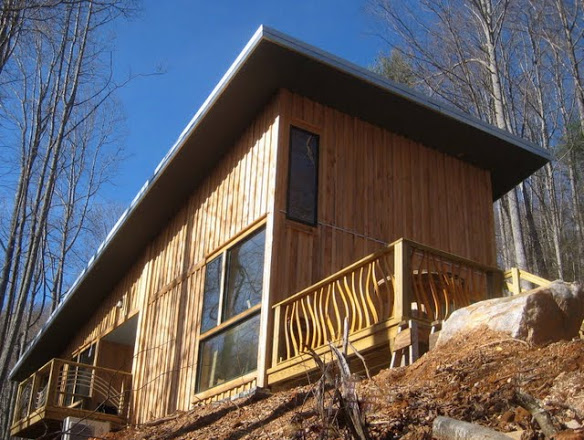 There's a growing interest nationwide in tiny and small houses. One reason people choose small-house living is lower cost and the independence that can offer. Many are interested in sustainability. Some want to build their own house. John and I are probably not typical tiny-house people. Having worked decent-paying jobs all our lives we could have afforded a bigger house. Our house is built with durable, high quality materials, which not all tiny housers can afford. Living green is important to us and the house is very resource-efficient (Green Built NC gold level), but we have opted for electricity, running water, and high-speed internet, which some tiny-house folks forego. In a younger day I might have wanted to build my own house, but it certainly never would have been as well-designed, well-crafted, and green-built as the house that our architect-friend Jerry designed and our carpenter-friend Dan built for us.
It took longer for John to appreciate the house. Then one day he mused, "I love our little house. Don't you?" Yeah, babe, I've been loving it for a while now.
–Olga Ronay
Photo Tour of Building a Tiny House.
Tiny House Links
Tiny House Design (good pictures, plans, and FAQs)
Four Lights Tiny House Company (Jay Shafer, who founded Tumbleweed Tiny Houses)
Compact Cottage Company (Asheville builder of small green houses)Tiny House NCLife in 120 Square FeetThis Is The Little Life